Why use Lincoln Auto Lube System?
These are 15 reasons why Lincoln Auto Lubrication Systems are a must on today's Machinery.
| | |
| --- | --- |
| 1 | Reduces Repairs: |
| 2 | Prevents Waste of Lubricant: by dispensing precise amounts. |
| 3 | Reduces Man Hours: by delimiting manual lubrication. |
| 4 | Eliminates Machine Downtime: thereby increasing production. |
| 5 | Eliminates Product Spoilage: by controlling amount of lubricant to bearing. |
| 6 | Reduces Energy Requirements: by increasing machine efficiency (lowers bearing friction). |
| 7 | Increases Machine Output: by allowing faster speed in operation of machine. |
| 8 | Safety: no climbing on or over machinery, also safe lubrication of bearings inaccessible due to gas, fumes or height. |
| 9 | Machine Tolerances: are maintained longer by consistent automatic lubrication. |
| 10 | Better Housekeeping: a closed, sealed system eliminated spillage. Machines remain cleaner. No spillage and promotes safer environment for workers. |
| 11 | Promotes more Efficient Lubrication: lubricates while machine is running and delivers the right lubricant in the right amount at the right time. |
| 12 | Reduces Rejects: by maintaining closer bearing tolerances which allow for closer product tolerances. |
| 13 | Eliminates Bearing Contamination: by supplying lubricant from a closed circuit. Most oilers do not clean grease before manually lubricating. |
| 14 | Purges Bearing: in intense dirty work environments. Automatic lubrication Systems will purge or flush bearings thus reducing bearing failures due to contamination. |
| 15 | Bottom Line: automatic lubrication reduces manufacturing costs thereby allowing companies to increase profits and remain competitive in the marketplace. |
Benefits of Automated Lubrication - Improve Lubrication Practices
Automated lubrication applies smaller amounts of lubricant frequently, while the equipment is running, maintaining
the correct amount of grease in the bearing at all times. This is compared below to the feast and famine conditions
often associated with manual lubrication.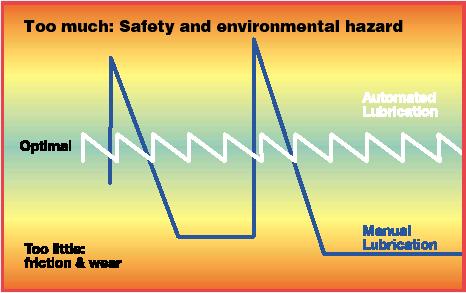 Why Bearing Fail? Manual Lubrication
Inconsistent lubrication
Can't lubricate while running
Constant contamination
Premature bearing wear
Labor expense
Safety issues
Why Auto Lubrication is better? Automated Lubrication
Constant lubrication
Lube while machine runs
Closed system - no contamination
Extended bearing life
Less downtime
Quick payback on your investment (ROI)
In a study conducted by a major component manufacturer,over 50% of failures are the result of improper lubrication.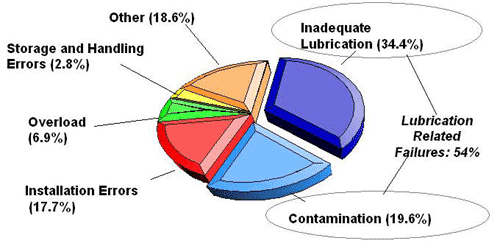 System Operation
The pump is actuated automatically by an adjustable controller.
The lubricant is delivered to the divider valves through the supply line.
The divider valve dispenses lubricant in measured amounts directly to the bearing through the feed line.
Visual indication of cycle pin assures that all points are lubricated.