SKF MultiFlex for oil, semi-fluid grease and hard grease
System description:

Multi-outlet pumps supply the lubricant directly to the lube point without the use of extra metering valves. Each lubrication point thus has its own pumping element. The system design is simple, accurate and reliable. SKF MultiFlex systems include a wide range of multi-outlet pumps from 1 to 32 outlets, and are able to withstand system pressures as high as 4 000 bar.
Applications:

SKF MultiFlex systems are designed for automatic re-lubrication as well as small circulating oil systems on applications in the machine-tool industry, oil and gas, and heavy industry – just to name a few examples.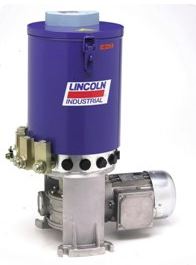 Learn more about Lincoln Quicklub progressive automatic lubrication systems