Poor lubrication causes about 36% of all premature bearing failures
But with the right lubrication solution you can create new opportunities to increase uptime and productivity. Along with helping to reduce premature bearing failures and machine downtime, proper lubrication can increase energy efficiency. At SKF, we can help you realize the true potential of lubrication.
SKF lubrication solutions range from specialized lubricants to state-of-the-art lubrication systems. Integrated SKF lubrication solutions combine our expertise in bearings, seals and condition monitoring with our tribology knowledge – the study of friction, wear and lubrication.
You can also count on leading technical support and services. This includes lubrication management programmes to help with lubricant selection, planning and monitoring – all from a single, reliable partner.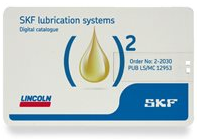 The SKF Lubrication Systems Digital Catalogue is a software to collect all SKF and Lincoln catalogues, manuals and product images on your local computer. The implemented update feature will automatically download the latest version of these files. The files will be stored on your computer for offline usage. It is a perfect tool to search and find SKF and Lincoln lubrication solutions for all kinds of machinery and vehicles.