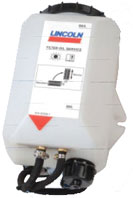 Lincoln EOS / MOS - Single-line Oil System for Chain Lubrication
The EOS is the reliable and most economical solution for the oil lubrication of chains
The system is a direct operating, electrically driven, single-line centralized lubrication system. The system is ideal for machines with chain drives and 12/24 VDC power supply – e.g. agricultural equipment such as balers.
A typical industrial application is for packaging machines such as palletizers. The metering elements supply the required oil quantity in time-controlled intervals to brushes which evenly apply the oil to the chain. The required metered quantity of oil can be adjusted to properly match the working condition, the size and length of the chain.
The metering range selection of 0.1, 0.3, 0.4 or 0.5 cm3 provides versatility to ensure that requirements are met. EOT – The EOS Controller For machines without a controller, Lincoln offers a 12/24 VDC controller. The pause time is adjustable from 1 to 100 minutes. The controller enables a simple retrofit installment of the EOS oil lubrication system.
Quicklub® progressive systems in combination with Brush Lubrication
Quicklub® progressive systems in combination with Contact Lubrication via chain guides