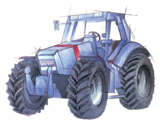 Lincoln lubrication systems are designed for the most adverse environments. Many international manufacturers factory fit their machinery with Lincoln systems.
Standard Lubrication Systems
Quicklub® Progressive Systems
The renowned Quicklub® series are based on the reliable progressive principal. Click here for more information on Quicklub.
SSV Progressive Metering Device
The perfect feature of the Quicklub® system is the single-block progressive metering device. Click here for more information on SSV.
QLS 401 - The Compact Lubrication System
Now with stirring paddle for improved grease homogenization. Click here for more information on QLS 401.
Battery-driven Grease Gun
PowerLuber® 14.4V / 1700mAh - more information
PowerLuber.com - click here to visit
Brochures for download
Lubrication Systems for Agricultural Machines
MOS/MOP 212-MGP 101 - mechanical dual lubrication system for oil and grease, for balers.