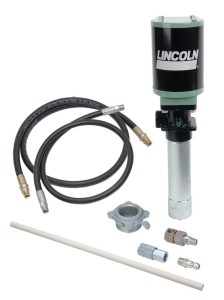 Lincoln has introduced its new line of PMV Lubrication Pumps
Featuring a unique, modular design, these pumps provide exceptional performance, long service life and low cost of ownership. Offered in 3-inch and 4.25-inch
diameters, the PMV Pumps are available in oil and grease models for stationary installations, as well as portable applications.
The PMV line combines decades of Lincoln design leadership with advanced materials and manufacturing techniques to offer a superior pump with distinct advantages. Its patent-pending design features a minimum of internal components, eliminating the complexity found in other pumps and reducing the risk for breakdowns and expensive repairs.
Operating without external lubrication, the PMV line is not sensitive to the wet, dirty air found in many shops and plants. The PMV Pump seals are compatible with a wide range of natural and synthetic lubricants and offer outstanding resistance to wear.