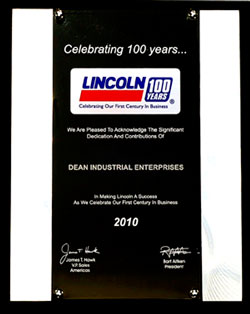 Fresno, Ca -- Lubrication Methods specialists, Dean Industrial Enterprises,
has received Lincoln Industrial's special "Celebrating 100 Years" Distributor Award.
"This award was developed to recognize a select few distributors who, over the long term, have consistently supported Lincoln in growing, not just sales and market share, but also product and new market development," said Curt Denney, Dean Industrial sales manager. "Over the last 50 years, Dean Industrial has and continues to set the standard for other Lincoln Systems Houses. We look forward to many more years of mutual success." Dean Industrial, a leading West Coast distributor for Lincoln since 1959, received the "Distinguished Distributor Award" in 1988, 1989, 1993, 1997, 2003 and 2005, 2010 and 2014 awarded annually for outstanding sales performance to select distributors in North America. "It was an honor to receive this award," said Steve Sigle, Company President. "Not many companies can say that, for over two generations, they have been a key partner with a global leader. Our thanks goes to everyone at Dean Industrial who focus on making us the best at responding quickly, installing professionally and providing quality customized lubrication solutions for all our customers - done right the first time. This award is an indication to us that, over the long term, we are getting it right."