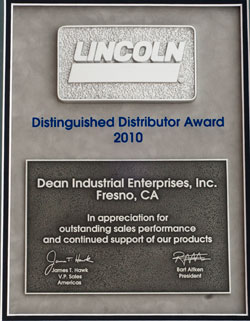 FOR IMMEDIATE RELEASE
REPRESENTING: Dean Industrial Enterprises
CONTACT: Steve Sigle (559) 233-4222
DISTINGUISHED DISTRIBUTOR AWARD FROM LINCOLN
FRESNO, Calif. . . . Dean Industrial Enterprises recently was honored with the Lincoln Industrial Distinguished Distributor Award for 2010. This award is bestowed upon select Lincoln partners that meet specific sales and marketing criteria for the year.
To qualify for this distinction, a distributor must achieve the following high standards:
Exceed sales quota by at least 10 percent
Maintain sufficient inventory to quickly serve customers
Actively promote Lincoln product and brand
Establish and successfully execute business plan
Act as a partner in Lincoln's growth strategies and business plans
Dean Industrial, a family-owned business located in Fresno, Calif., was founded in 1959. The company supplies goods and services to the agricultural, industrial, petroleum, heavy construction, manufacturing and food processing industries.
Established in 1910, Lincoln is a world leader in the manufacture and sale of lubrication and pumping equipment for use in vehicle service and industry. Lincoln headquarters are located at One Lincoln Way, St. Louis, Mo. 63120-1578.